AdamGorry-Lights Font
Hieronder zie je een voorbeeld van de font AdamGorry-Lights.
Zoals alle fonts op pickafont.com, inclusief de font AdamGorry-Lights kan gratis gedownload worden zolang je de auteursrechten respecteert.
Categorie:
Fancy : Retro
Author:
Sentinel Type (James Arboghast)
website
Type:
Truetype
Karakters:
232
Downloads:
310 times
Licentie:
Free for personal use
Copyright: | copyright (c) James Arboghast 2004 | all rights reserved worldwide | published 2004 by Sentinel Type | Adam Gorry is an asserted mark of Adam Gorry | FREEWARE: this font is free and may be freely distributed without permission from the publisher | no license fee is payable for personal or non-profit use; for commercial use (or any use) please make a cash donation to a Leukaemia foundation or research fund of your choice | In 1997, Adam aged 3 was diagnosed with Leukaemia; in 2002 he beat it with the help of modern medicine and much love from his family. When you use this font spare a thought for Leukaemia sufferers worldwide; your donation will make a difference |
Deze font werd geupload op 05.08.2013.
Ze werd al 310 keer gedownload.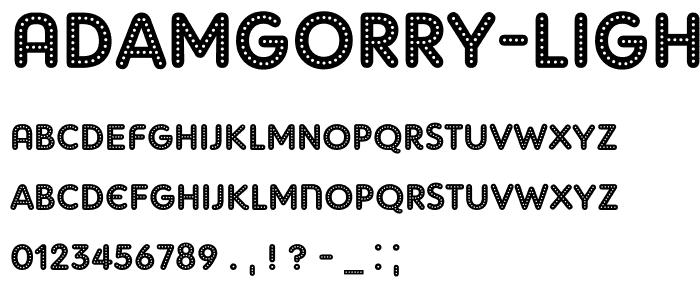 De gedownloade file, AdamGorry-Lights.otf, is een gecomprimeerde file die de file 'AdamGorry-Lights.otf' bevat,
die je kan unzippen met een compressietool zoals winzip.

Pick a Font © 2006-2017. Alle rechten voorbehouden.