Angstrom Font
Hieronder zie je een voorbeeld van de font Angstrom.
Zoals alle fonts op pickafont.com, inclusief de font Angstrom kan gratis gedownload worden zolang je de auteursrechten respecteert.
Categorie:
Fancy : Distorted
Author:
Divide By Zero (Tom Murphy)
website
Type:
Truetype
Karakters:
30
Downloads:
180 times
Licentie:
Freeware
Copyright: http://members.aol.com/vroomfonde/ttf/ - Anstrom Copyright (C) 1997 Tom Murphy 7- Freeware! But not to be resold (on CD for instance!) - ImightbeTM@aol.com - Tom 7 - 339 Still Hill Rd - Hamden CT 06518 - A Fly Can't Bird and Neither Can I
Deze font werd geupload op 13.12.2006.
Ze werd al 180 keer gedownload.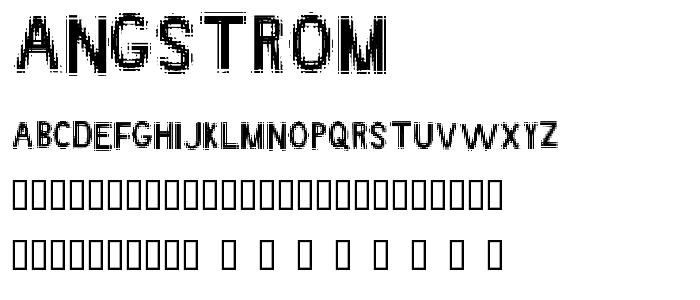 De gedownloade file, Angstrom.zip, is een gecomprimeerde file die de file 'Angstrom.ttf' bevat,
die je kan unzippen met een compressietool zoals winzip.

Pick a Font © 2006-2017. Alle rechten voorbehouden.