Anonymous Clippings Font
Hieronder zie je een voorbeeld van de font Anonymous Clippings.
Zoals alle fonts op pickafont.com, inclusief de font Anonymous Clippings kan gratis gedownload worden zolang je de auteursrechten respecteert.
Categorie:
Fancy : Distorted
Author:
Centric Studios (K. Whetstone)
website
Type:
Truetype
Karakters:
102
Downloads:
166 times
Licentie:
Free for personal use
Copyright: © 2008 CENTRIC STUDIOS. Redistribution of this font without the consent of Centric Studios is prohibited. www.centricpropaganda.com
Deze font werd geupload op 31.07.2013.
Ze werd al 166 keer gedownload.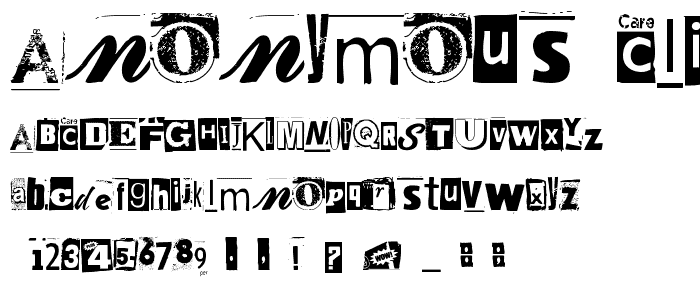 De gedownloade file, Anonymous Clippings.zip, is een gecomprimeerde file die de file 'Anonymous Clippings.ttf' bevat,
die je kan unzippen met een compressietool zoals winzip.

Pick a Font © 2006-2017. Alle rechten voorbehouden.